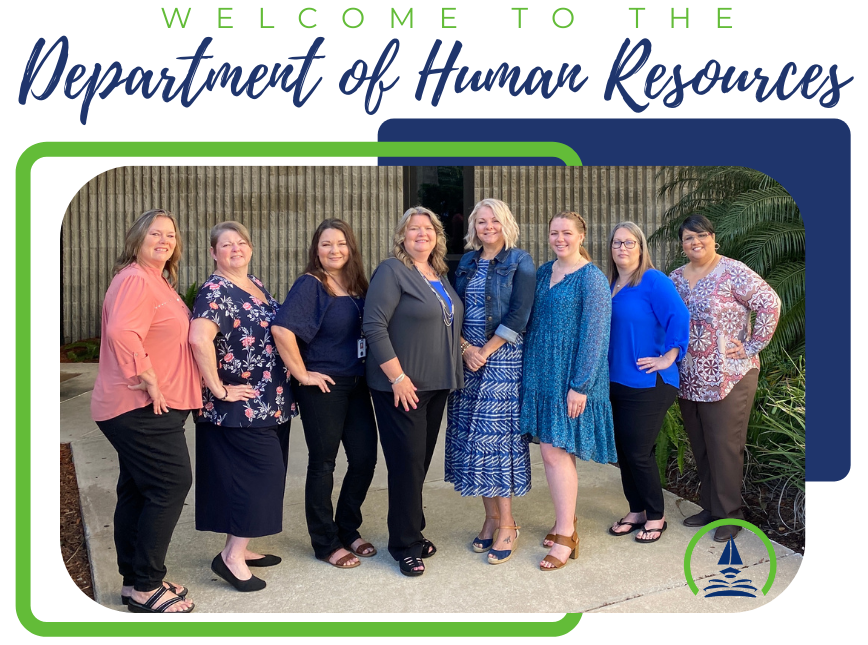 The Human Resources Department serves as a strategic partner supporting Putnam County School District as a "Premier Workforce" by recruiting, developing, rewarding, and retaining a highly qualified, diverse workforce of hard-working, dedicated employees.

The Human Resources Department will be a continuous source of help and support to all of our employees - prospective, current and former. We believe that in doing so, we are creating a family atmosphere focused on shaping the future of our community by preparing all students for success in college, career, and life.
We are committed to shaping the future!
The Putnam County School District does not discriminate on the basis of race, color, religion, gender, age, ethnicity, national origin, marital status, sexual orientation, disability, political or religious beliefs, genetic information, or any other basis prohibited by law in its educational programs, services or activities or in its hiring or employment practices. Retaliation against an employee for engaging in a protected activity is prohibited.
Questions, complaints, or requests for additional information regarding discrimination or harassment may be sent to:
Human Resources
200 Reid Street
Palatka, FL 32177
Phone (386) 329-0547

Tonya Whitehurst, Executive Director of Human Resources
twhitehurst@my.putnamschools.org

Kristin Carroll, Administrator
Certification, Recruitment, Novice Teacher Program, Instructional Experience, Intern Placement
kcarroll@my.putnamschools.org

Jackie Smith, Executive Secretary
Personnel Matters, Drug Testing, Administrative Data, Unemployment, Support/Administrative Recommendations
jsmith@my.putnamschools.org

Christine Wright, Administrative Assistant
Employee Management, Federal/State Reporting, Staff Surveys, Online Forms
cwright@my.putnamschools.org

Elisa Catalfu, Personnel Specialist
Leave/FMLA, Payroll Verification of Leave, Disability Forms, Sick Leave Bank, Sick Leave Buy Back
ecatalfu@my.putnamschools.org

Deborah Crowley, Personnel Specialist
(386) 312-4933
Risk Management, Worker's Compensation, Retirement, Accidents, Safe School Compliance
dcrowley@my.putnamschools.org

Ashley Futch, Personnel Specialist
Verification of Experience & Career Ladder for Non-Instructional Employees, Student Loan Forgiveness, Non-Instructional Onboarding, Non-Instructional Contracts, Employment Verification
a2futch@my.putnamschools.org

Leslie Nobles, Personnel Specialist
Instructional, Support, and Administrative Onboarding, FastTrack, Job Posting, Instructional Data, Instructional Contracts, iObservation, Employee Perks Program, HR Webmaster
lnobles@my.putnamschools.org


Applications for employment must be completed online.
Click the link for Fast Track to view and apply for jobs online.
A public computer is available at the district office.
If you need assistance, please call (386) 329-0547

ESS (formerly Source4Teachers) has been selected to coordinate and manage all aspects of our substitutes. Click the link below for more information.

Our hours are Monday through Friday, 7:30 am to 4:30 pm.
We are closed on Fridays during summer break.
Human Resources is also available by phone Monday through Friday, 7:30 am to 4:45 pm
Phone (386) 329-0547
Fax (386) 329-0655
humanresources@my.putnamschools.org