Applications for employment must be completed online.
Please click the image below:
You can not be hired without a Social Security card. If you do not have the actual card, we encourage you to order one now because it will delay your hiring.
A public computer is available at the district office.
If you need assistance, please call us at 386.329.0547
Current employees should log in to Skyward Employee Access to apply.
You must have an email account to submit an employment application. If you do not have one, there are websites that offer free email (e.g. gmail.com, yahoo.com, hotmail.com). We use email to communicate during the hiring process so be sure it stays updated.
The applicant is responsible to pay the cost ($61.25) of fingerprint processing.
Vacancies are posted daily.
NOTICE: Putnam County Schools District utilizes E-Verify (Department of Homeland Security) to confirm the eligibility of employees to work in the United States.
Applications will not be accepted after the vacancy deadline.

It is the applicant's responsibility to keep their application information up to date.

Applicants must be 18 years of age to be considered for a position.

A GED or high school diploma is required for most positions, but not all.

Completing the criminal record section is REQUIRED. All arrests, dispositions, and any charges still pending must be disclosed or the application will be considered fraudulent.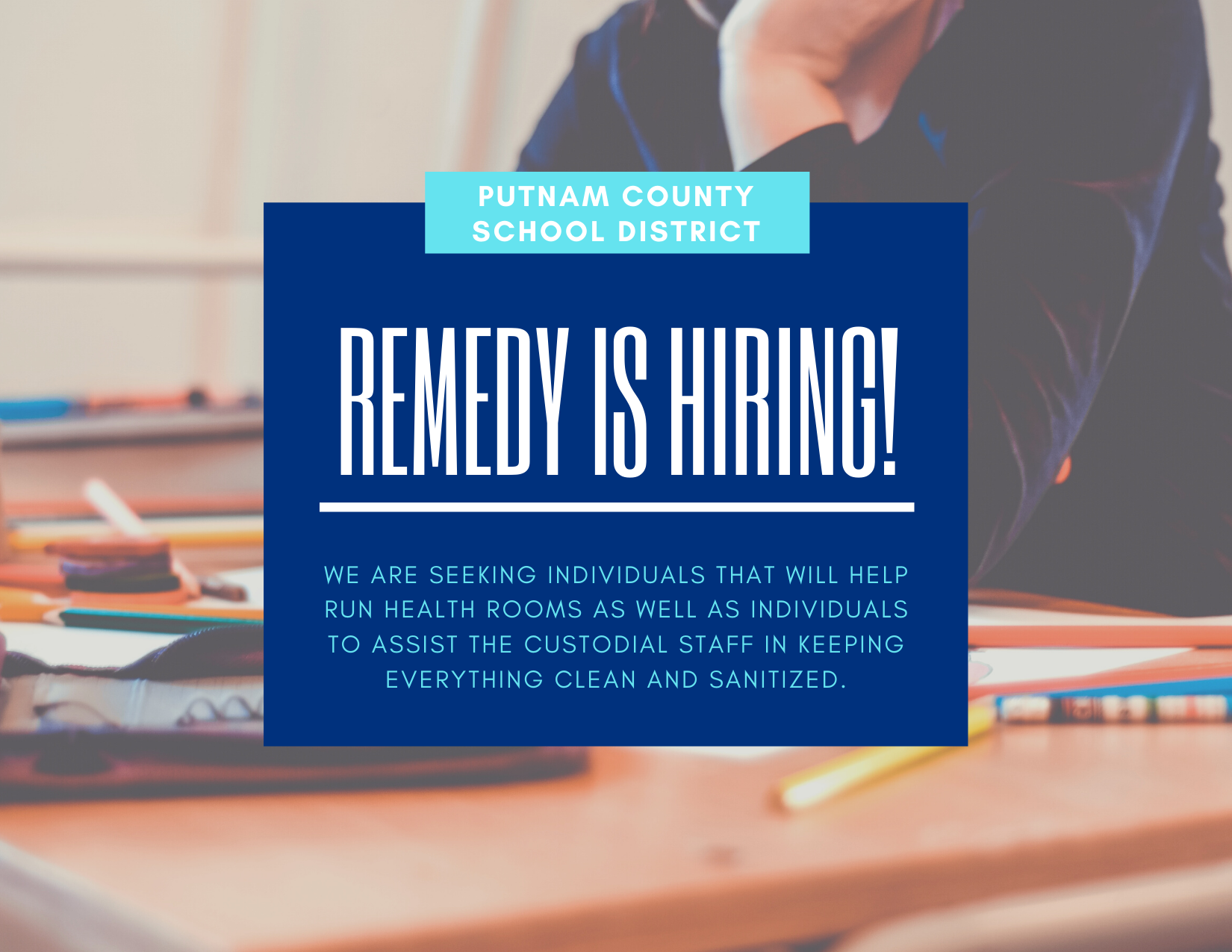 In an effort to provide the safest environment possible at each of our schools, PCSD is looking for dedicated people to come work with us this year. We are seeking individuals that will help run health rooms as well as individuals to assist the custodial staff in keeping everything clean and sanitized. If you are interested or know someone who might be interested, please contact Remedy Staffing and the school administrator where you would like to work for more details.


Education Staffing Solution (formerly Source4Teachers) coordinates and manages all aspects of substituting for our district. Click the link below for more information.

Paraprofessional Exam from Educational Testing Service (ETS)
The ParaPro Assessment measures the skills and knowledge in reading, writing, and math possessed by prospective and practicing educational assistants and paraprofessionals. It also measures the ability to apply skills and knowledge when assisting in a classroom. It was designed to satisfy the requirements of the federally legislated No Child Left Behind Act.
Candidates have 2 ½ hours to complete the test. The exam consists of 90 multiple choice questions, approximately two-thirds focusing on basic skills and knowledge. The remaining questions relate to applying skills in the classroom. All questions are in English.
For more information: https://www.prometric.com/ParaPro
To take this exam:
There are two ways to take your ParaPro exam, either in a test center or remotely at home using Prometric's ProProctor™ application.
**Important: Your state may require your Social Security number (SSN) to apply your test scores to your certification request. Without your SSN, your certification may be delayed.

Option 1, In Person
Use the Test Fee Payment button at https://www.sjrstate.edu/testingcenter.html to pay the $75 test fee for the ETS ParaProfessional exam. This fee is non-refundable.

Contact the Testing Center at the St. Johns River State College Palatka Campus (386-312-4228) or the Orange Park Campus (904-276-6793) and make an appointment for the exam. Be sure to have your receipt number at hand.

Arrive at your testing location at least 20 minutes prior to your appointment; PAC Bldg. T, Rm 113 or OPC Bldg. A, Room 61.
Option 2, Online
To take the ParaPro test at home, you must have a computer with a camera, an internet connection, and the ability to install a lightweight app (prior to the test event). You can take the test online while a Prometric proctor oversees the examination process remotely.
https://www.prometric.com/ParaPro
On the left side, under TEST AT HOME click "Schedule"

Read through and agree to the terms/conditions.

Answer the question about accommodations and select "ParaPro" under Test Selection

Confirm your time zone

Select the testing date and time and click "Reserve Test Time".

Read the terms and conditions then choose a consent button.

Enter your personal information.

Verify appointment.

Enter payment details.

Click "Complete Appointment".

The ParaPro Assessment may be taken once every 28 days, not including the initial test date. If the retake policy is violated, the test taker's score will be canceled, and the test fee will not be refunded.
Additional prep information is available at https://www.ets.org/parapro/about.
Anyone may take the test. No requirements.
St. Johns River State College
Palatka Campus 386-312-4228
Orange Park Campus 904-276-6793

If you accept an offer of employment, fingerprinting will be required and are processed by FieldPrint. A background search will be made by the Florida Department of Law Enforcement and the Federal Bureau of Investigation.
To schedule an appointment visit the FieldPrint website.
WAIT FOR AN EMAIL WITH YOUR FIELDPRINT CODE
Click on the Schedule an Appointment button

Enter an email address under New Users | Sign Up and click the Sign up button. Follow the instructions for creating a password and security question and then click Sign Up and Continue.

In the box under Fieldprint Code, enter the code given to you by Human Resources and click Continue.

Enter the contact and demographic information as required by the FBI and click Save and Continue.

Schedule an appointment at the location of your choosing. You will be required to submit payment.

Print the confirmation page and take it with you to your appointment, along with two valid forms of identification.

If you have questions concerning Differentiated Pay, please see your principal or site supervisor.
Visit Differentiated Pay for more information


Putnam County School District does not discriminate on the basis of race, religion, color, sex, marital status, age, national origin, or disability. Discrimination on the basis of race, religion, color, disability, sex, age, marital status, or parental status is prohibited in the recruitment, hiring, assigning, promotion, paying, demoting, or dismissal of employees of the Putnam County School District. Employment of personnel for Putnam County School District is in compliance with Federal and State Laws regarding nondiscrimination and preference. Applicants/individuals with disabilities requesting accommodations during the application, testing, or interview process under the Americans with Disabilities Act (ADA) may call the District's Human Resources office at 386.329.0547 for assistance.