On January 4, 2022, the Florida Department of Education released official 2021 graduation rates. The Putnam County School District's graduation rate is 92.5%.
For the second year in a row, PCSD has met the community's target of 90% and exceeded the State graduation rate. This accomplishment demonstrates that the expectation of on-time graduation is becoming an embedded part of the school district's culture. It is important to note that pursuant to FDOE Emergency Order No. 2021-EO-02, students in the 2020-21 graduating classes were exempt from statewide, standardized assessment requirements. While approximately 8.5% of students statewide used this exemption, only 4.0% of Putnam County School District students needed the exemption.
The five year graduation initiative that was implemented in 2015 started with Putnam County ranked 66th out of the 67 county districts in the State of Florida. With the latest release of the 2021 graduation rates, the district is now ranked 16th.
"Our district and school leaders have implemented a system-wide focus that ensures each student has a clear plan for on-time graduation," stated Surrency. "This focus has resulted in our district maintaining a graduation rate that exceeds our 90% target. Improving from a rank of 66th to 16th in the state shows that Putnam County students are achieving at rates that should make us all proud."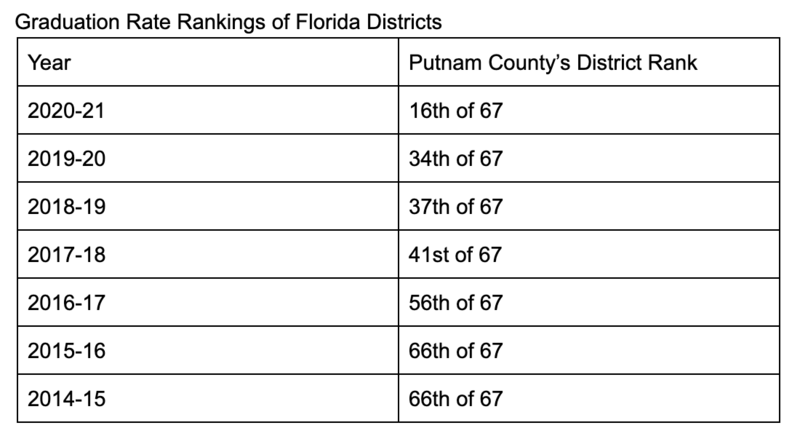 The lessons learned while the graduation initiative was being implemented will continue into the future as the district aims to maintain graduation rates above 90%. The pandemic has led to more students in future cohorts becoming off-track. This requires students and their families to work even harder to achieve the milestone of on-time high school graduation. The district's new 2021-26 Strategic Plan focuses on preparing graduates for success beyond graduation.

This year marks the first time that the Putnam County School District exceeded the State of Florida rates for every reported subgroup category.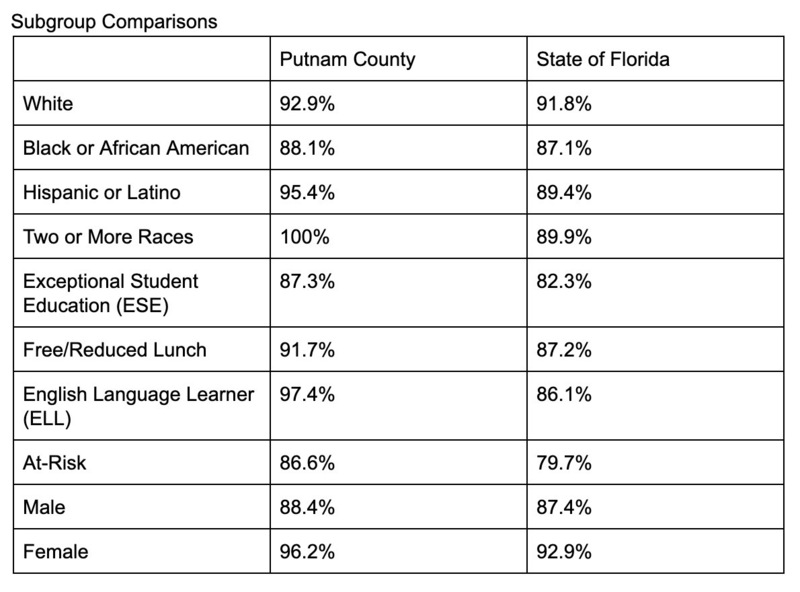 According to Jonathan Hinke, Executive Director of Strategic Initiatives, "Our school leaders and their teams have done an outstanding job ensuring students across all subgroups graduate on time. Our next phase of improvement will include an emphasis on preparing all students for life after graduation and developing students who can demonstrate the skills and character traits outlined in our district's Portrait of a Graduate."
https://www.fldoe.org/accountability/data-sys/edu-info-accountability-services/pk-12-public-school-data-pubs-reports/students.stml