On January 13, 2023, the Florida Department of Education released official 2022 graduation rates. The State of Florida graduation rate is 87.3% and Putnam County School District's graduation rate is 88.5%. This marks the third year in a row, Putnam's rate has exceeded the State average. Since 2015, Putnam County's graduation rate has increased from 54.9% to 88.5%, a 33.6 percentage point increase.
"I am extremely proud of the resilience of our students who graduated in 2022," stated Superintendent, Rick Surrency. "Putnam County is blessed to have dedicated teachers, leaders, counselors, and staff who work tirelessly alongside parents to ensure our students graduate on time and are prepared for life beyond graduation."
While Putnam County's graduation rate decreased from 2021 to 2022, it still exceeded the pre-pandemic rate of 86.3% in 2019. It is important to note that students in the 2020 and 2021 graduation classes were granted exemption waivers for some graduation requirements due to Florida Department of Education Emergency Orders No.2020-EO-1 and No. 2021-EO-02. This flexibility allowed more students to graduate with their cohort during the two designated pandemic years. Most of the school districts throughout Florida experienced a decrease in rates from 2021 to 2022. Putnam County is ranked 27th out of the 67 county districts, an increase from the 2019 pre-pandemic rank of 37th.
In 2022, Putnam County exceeded the State average in seven of ten subgroups, including graduation rates of Black/African American and Hispanic students.
The Putnam County School District continues to provide students with programs and additional support to help them graduate on time. Intensive reading courses and programs such as PCSD Excel and AVID support at-risk and off-track students. At-risk students are those who entered 9th grade performing below grade level in both reading and mathematics. Putnam's at risk graduation percentage of 79.7% exceeds that of the State's 71.2% for this subgroup.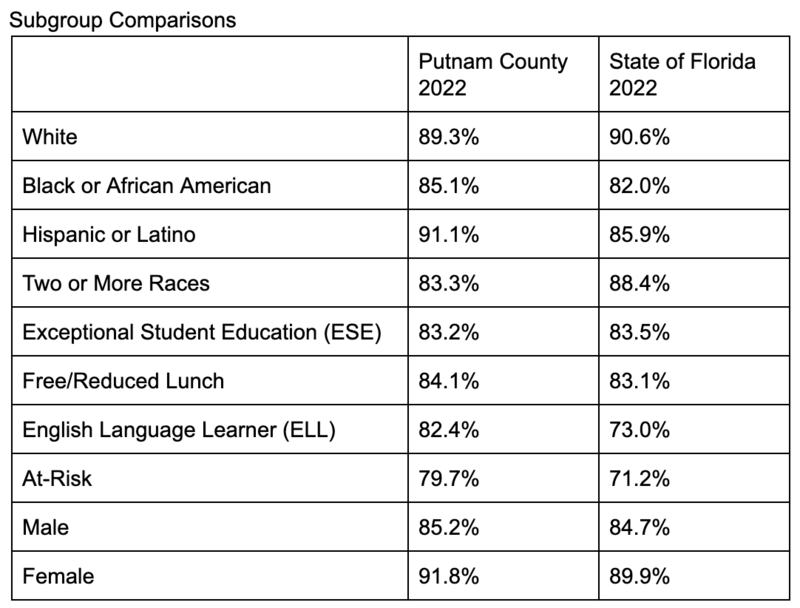 Of the individual schools in Putnam County, Q.I. Roberts Jr.-Sr. High School once again had a graduation rate of 100%. Crescent City Jr.-Sr. High School had the next highest school rate of 91.3%.
https://www.fldoe.org/accountability/data-sys/edu-info-accountability-services/pk-12-public-school-data-pubs-reports/students.stml