The regular meeting of the District School Board of Putnam County was held Tuesday, February 15, 2022.
Presentations began with a celebration for Charles Overturf, from the Azalea City Kiwanis, for his dedication to the Terrific Kids program. This program has served students in our elementary schools for 28 years recognizing over 20,000 students! Mr. Overturf has been present at every program during these years. His commitment and continued presence at these events are truly remarkable. The countless hours he spends in our schools has provided thousands of opportunities to recognize students who are meeting their goals and showing great character and academic performance in their schools.
Pictured below are Charles Overturf with Dr. Surrency and Danny Hood, fellow Kiwanian who began the Terrific Kids program.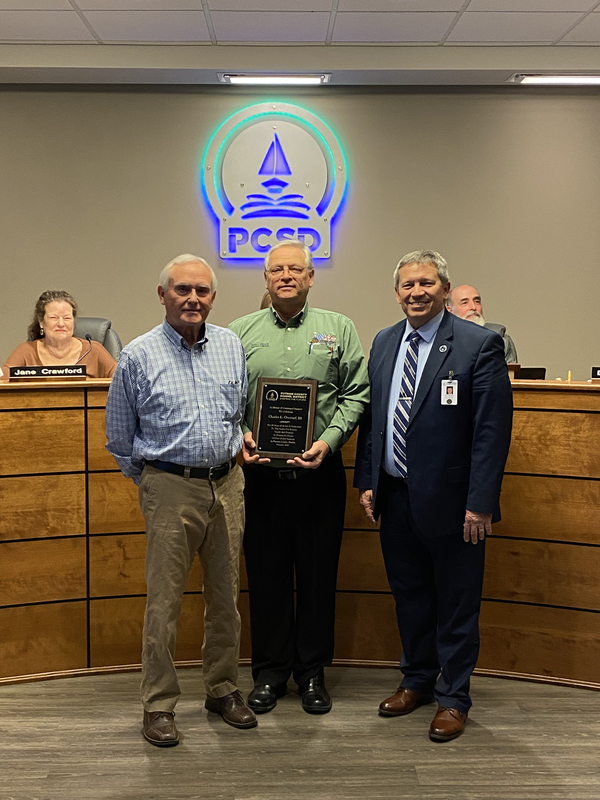 Pictured below are Charles Overturf with fellow members of the Azalea City Kiwanis.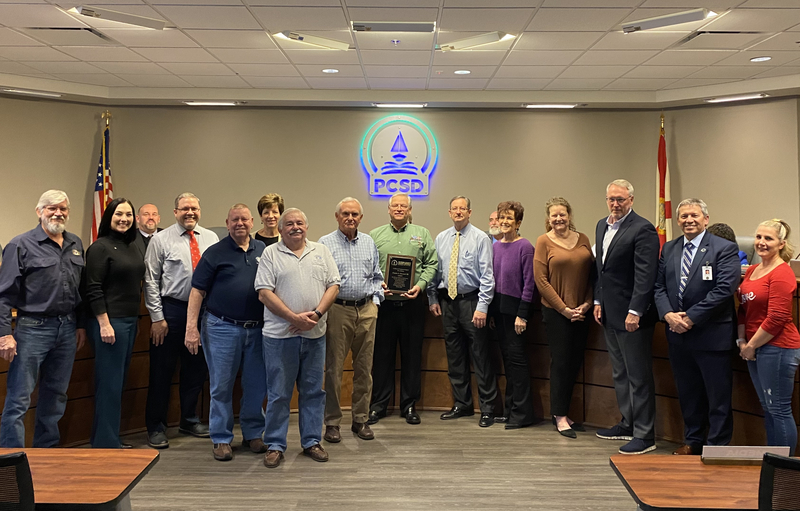 Dr. Surrency then shared the following regarding a Resolution of Appreciation for former Putnam County Superintendent, Carey E. Ferrell.
"Mr. Ferrell's tireless efforts to engage the entire community to desegregate our schools set a high standard for communication and action during times of dramatic change. His leadership during the years of desegregating schools continues to serve as inspiration to our school leaders to be bold and intentional when facing challenges that impact the education of our children."
Board members added additional comments sharing their appreciation for Mr. Ferrell for his leadership and innovative contributions to the students, families and community members of Putnam County, Florida. Mr. Ferrell recently passed away. This Resolution will be presented to his family.
Tonya Whitehurst, Executive Director of Human Resources, presented the Employees of the Year who were recently recognized at the district ceremony.
Pictured below from left to right: Dr Surrency, Superintendent, Tim Adams- Principal of the Year- Crescent City Jr-Sr High School, Cathy Oyster- Assistant Principal of the Year- Kelley Smith Elementary School, Marta Arthur- School-Related Employee of the Year- Transportation- West, Scarlett Williams- School-Related Employee of the Year (school-based)- James A. Long Elementary School, Asia Kellner- Teacher of the Year- William D. Moseley Elementary School, Holly Pickens, Board Chair.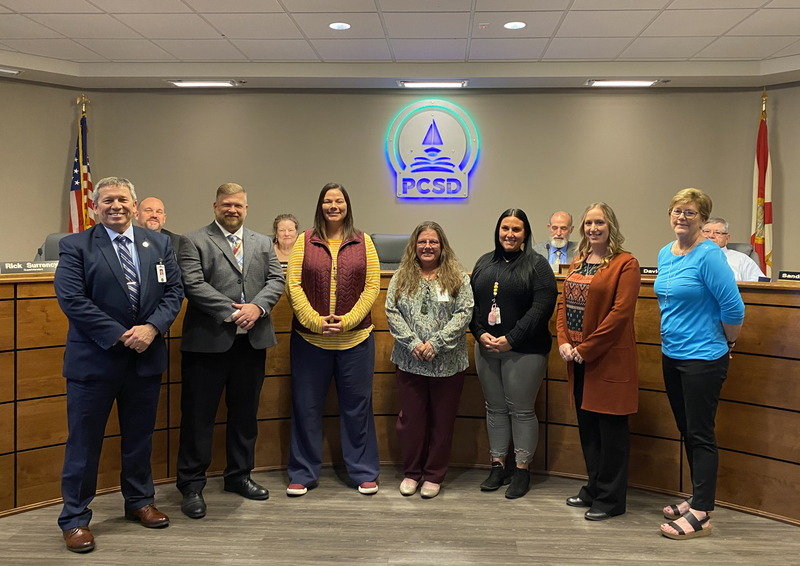 Wendy Hansford, College Success Coach for Putnam County with Take Stock in Children (TSIC), shared the mission of this program and its service here to Putnam County. Ms. Hansford serves students at each of our high schools one day per week to coach students in the program. Currently there are 49 TSIC students in our schools who are on track to graduate with 2-year scholarships.
We currently have 26 mentors serving our students weekly. Ms. Hansford is actively seeking more community members to serve as mentors for these students. Sydney Williams, a senior at Interlachen Jr-Sr High School is a Leaders for Life Fellowship Recipient. She was one of seven students chosen in Florida. Additionally, Sydney earned the Striving to Succeed Award from Goodwill Industries.
Ms. Hansford shared that the TSIC mentors have shifted the conversation from "IF I go to college" to "WHEN I go to college!"
Jen Azula, Director of Teaching and Learning, shared the upcoming plans for future Instructional Materials in Mathematics. A survey will be available to both teachers, families and community members to share feedback on the proposed curriculum programs. Please click here for information and the survey link.
Randy Hedstrom, Director of Student Services, recognized the following schools for earning the Florida PBIS (Positive Behavioral Interventions and Support) Model School Recognition: Browning-Pearce Elementary School, James A. Long Elementary School, Kelley Smith Elementary School, and Melrose Elementary School. These schools have created environments that provide support to all students for positive behavior within a Multi-Tiered System of Supports (MTSS).