ORIGINALLY POSTED 11/16/2020:
Reducing Stress for Students & Families with Rachel Davis, NLP Practitioner, TEDx Speaker & Musician
You don't want to miss this live session with Rachel Davis! Join us to learn:
*Strategies for reducing stress in the home.
*Techniques for reducing anxiety in children.
*Creative ways to incorporate music in daily routines to create a fun and happy atmosphere.
Date: Monday, November 16, 2020
Time: 6:00PM – 7:00PM
For: Family Members of Students in a 21st CCLC Program
Place: Virtual Meeting via Zoom
To Join, use the following link from any digital device:
https://us04web.zoom.us/j/74402097808...
Meeting ID: 744 0209 7808 Passcode: 39Ffps
For more information,
Please contact the 21st Century Community Learning Centers Program
PCSD Department of Federal Programs
386.329.0543


UPDATED 11/18/2020: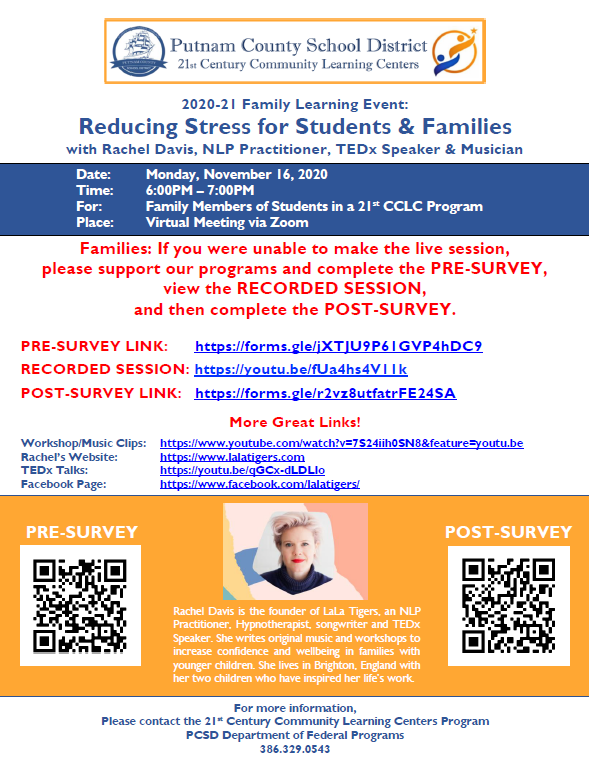 Families: If you were unable to make the live session, please support our programs and complete the PRE-SURVEY, view the RECORDED SESSION, and then complete the POST-SURVEY.

PRE-SURVEY LINK: https://forms.gle/jXTJU9P61GVP...
RECORDED SESSION:
POST-SURVEY LINK: https://forms.gle/r2vz8utfatrF...

More Great Links!
Rachel's Website: https://www.lalatigers.com
TEDx Talks:
Facebook Page: https://www.facebook.com/lalat...

Event featured in the Palatka Daily News:
Mental health is at the forefront of national attention due to the coronavirus pandemic. Putnam County School District officials and parents heard from speaker Rachel Davis the positive effects of music on children's mental health.
Read more: https://www.palatkadailynews.com/.../music-suggested...