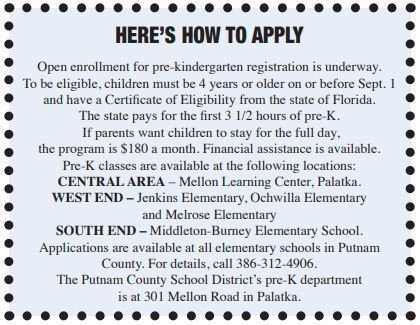 Ryleigh Rampone is ready for the first day of kindergarten thanks to all the things she learned in her pre-k class at Mellon Learning Center in Palatka.
"I like playing with the letters," said the 5-year-old, who is also taking part in the summer pre-K camp at Mellon.
According to Jessica Stallings, Early Childhood Learning coordinator with the Putnam County School District, now is the time for parents or guardians to register their child for pre-kindergarten for the coming school year that begins Aug. 17. Space is limited.
"There are many long-term benefits for children who attend pre-kindergarten," she said. "The list includes higher income earned over their lifetime, less criminal issues and less reliance on public assistance."
Stallings said a typical pre-kindergarten day includes early literacy and playground time.
The literacy learning includes syllables, rhyming, letter names/sounds, beginning writing, and math, which includes counting, number recognition, patterns, shapes and Science, Technology, Engineering and Math (STEM) skills. "We also focus on social emotional learning with emphasis on self-regulation and learning how to get along with others," Stallings said.
And that's where play time comes in.
"We receive many children who do not know how to communicate and get along with other children," said Carol Jones, pre-K teacher at Mellon Learning Center. "We use play as a way to help them learn those skills."
Mellon pre-K teacher Natalie Murphy, said free play gives students a chance to have a choice in what they want to do.
"This helps with decision-making skills and builds confidence by giving the students a voice," she said.
Murphy added there are lots of opportunities for the pre-K kids to play during the day while also learning.
"They have the traditional playground time, but they also participate in free-choice centers such as dramatic play, blocks, water/sand tables and more."
Murphy finds this helps the students grow because they have choices to make.
"It also teaches them communication skills and cooperation skills because they are playing with others in that center," she said. "They have to take turns, share items and negotiate roles."
To qualify for pre-K, a child must be 4 years old on or before Sept. 1. Classes are offered at the following schools: Mellon Learning Center (Palatka), Ochwilla Elementary (Hawthorne), Melrose Elementary (Melrose), Jenkins Elementary (Interlachen) and Middleton-Burney Elementary (Crescent City).
The half-day program is 3 1/2 hours and is free. For a child to attend the whole school day, the fee is $180 a month.
"We do offer financial assistance so we are encouraging everyone to apply," Stallings said. "We are willing to work with families because it is important to us that their child can benefit from pre-k."
For students who stay the whole day, a free breakfast and lunch is available. Registration packets can be picked up from any elementary school and the Putnam County School District Office.
Families should visit familyservices.floridaearlylearning.com and apply for a VPK Certificate of Eligibility. Applying does require the parents or guardians to set up an online account and upload the child's birth certificate and proof of residency.
"We would be happy to help them with this process if they need it," Stallings said. "Once they have the certificate and packet filled out, they return everything to the school they are applying to. We have spots open at all schools but space is limited."
According to www.urbanchildinstitute.org , pre-K is considered an optional preparation for kindergarten.
"Pre-K impacts a child throughout his or her entire school experience, resulting in everything from heightened vocabulary scores to improved attendance and high school graduation rates."
Stallings believes the benefits of pre-K go far beyond a child's school years and into their adult lives.
"Starting at age 4, nationwide studies reveal that investing early in a child's education by sending them to pre-kindergarten yields a long list of benefits that go beyond test scores and into the very fabric of their and our futures."
Stallings finds sending a child to pre-K results in better kindergarten readiness, improved vocabulary and enhanced reading skills.
It's backed up by statements at www.urbanchildinstitute.org.
"Aside from the compelling, individual benefits, pre-K impacts the community on a very real level," she said. "Research shows that communities who invest in pre-K programs experience considerable returns on their investment to private citizens, as well as local, state and federal government."
While Ryleigh Rampone is counting the days to the start of the new school, the biggest thing on her mind is whether she wants a unicorn or mermaid backpack.
"I hope I meet a lot of new friends," she said. "I like to play on the playground with my friends."
Her friend JohnBrooks Smith, 5, said he loved going to pre-K and knows his favorite color is blue and he plans to get a Batman backpack.
"I loved playing with the toys and police officer costume," he said of his pre-K class. "I'm going to be a police officer when I grow up."
Enrico Shivers, 5, said his favorite memory of pre-K was eating cupcakes on his birthday.
"I'm going to get a Spiderman backpack," he said. Pre-K was good and I learned math, numbers and how to count and letters and sounds. I like school. I hope in my new class we get to watch cartoons and movies."
Stallings said Putnam County pre-K programs are vital to the well-being of students and the community and she encourages parents to sign their children up for the all-day program.
"I believe parents need to understand that attending quality pre-K programs helps their child get ready for kindergarten and when they stay all day, they learn so much," she said. "Attending pre-k also sets a good foundation at a very early age that school is a priority."
Copyright 2022 by Palatka Daily News – all rights reserved. (Permissions acquired to share publication on PCSD Platforms.)