We are proud to share that the legacy of Robert H. Jenkins, Jr. will live on in the community of Interlachen.
The PCSD Board directed the District to form School Renaming Committees for schools that needed renaming due to new grade configurations from the District Revitalization Plan. Naming committees were composed of stakeholders selected by board members and district administrators. Many individuals voiced concerns over the closure of Robert H. Jenkins, Jr. Middle School and what the loss would mean to our community if his name did not continue in our schools.
Robert H. Jenkins, Jr., a Medal of Honor recipient, was born in Interlachen in 1948 and enlisted in the Marines after graduating from Palatka Central Academy in 1967. In 1969, while fighting in the Vietnam War, Jenkins and another private first class, Fred Ostrom, were fighting off the enemy together in a ditch when a North Vietnamese soldier threw a hand grenade at them. Jenkins immediately pushed Ostrom to the ground and jumped on top of him to shield him from the blast, according to the U.S. Department of Defense. Ostrom survived but Jenkins did not. He was 20 years old. Jenkins' sacrifice is an important part of Black history that should live on in our community.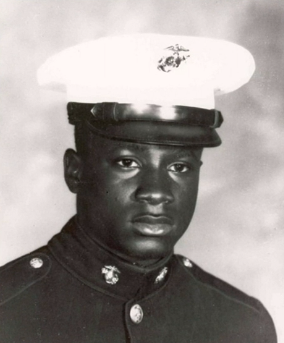 Leo Grainger, a proud supporter of the legacy of Robert H. Jenkins, Jr. and a School Renaming Committee member, expressed the magnitude of being a Medal of Honor recipient at the PCSD board meeting on Tuesday evening. When addressing the board, Mr. Grainger said "There are only 23 (Medal of Honor Recipients) in Florida, and Putnam County only has one (Medal of Honor Recipient, and that is Robert Henry Jenkins, Jr."
School Board Member, Sandra Gilyard, also spoke very passionately for preserving Robert H. Jenkins Jr.'s name. "A Lot of people assume that he died in the war," Gilyard said, "he gave his life. All I want is that his name is not lost forever… Our children need to know."
At the April 6th board meeting, the School Renaming Committee proposed changing Interlachen Elementary School's name to Robert H. Jenkins, Jr. Elementary School. The PCSD Board voted unanimously to rename the school ensuring the Black American hero's legacy will live on for generations to come.
Here are the official school names for 2021-22:
Browning-Pearce Elementary School K-6
Crescent City Jr. - Sr. High School 7-12
Interlachen Jr. - Sr. High School 7-12
James A. Long Elementary School K-6
Kelley Smith Elementary School K-6
Mellon Learning Center PK-12
Melrose Elementary School PK-6
Middleton-Burney Elementary School PK-6
Ochwilla Elementary School PK-6
Palatka Jr. - Sr. High School 7-12
Q.I. Roberts Jr. - Sr. High School 7-12
Robert H. Jenkins, Jr. Elementary School PK-6
William D. Moseley Elementary School K-6
#ProudtobePCSD