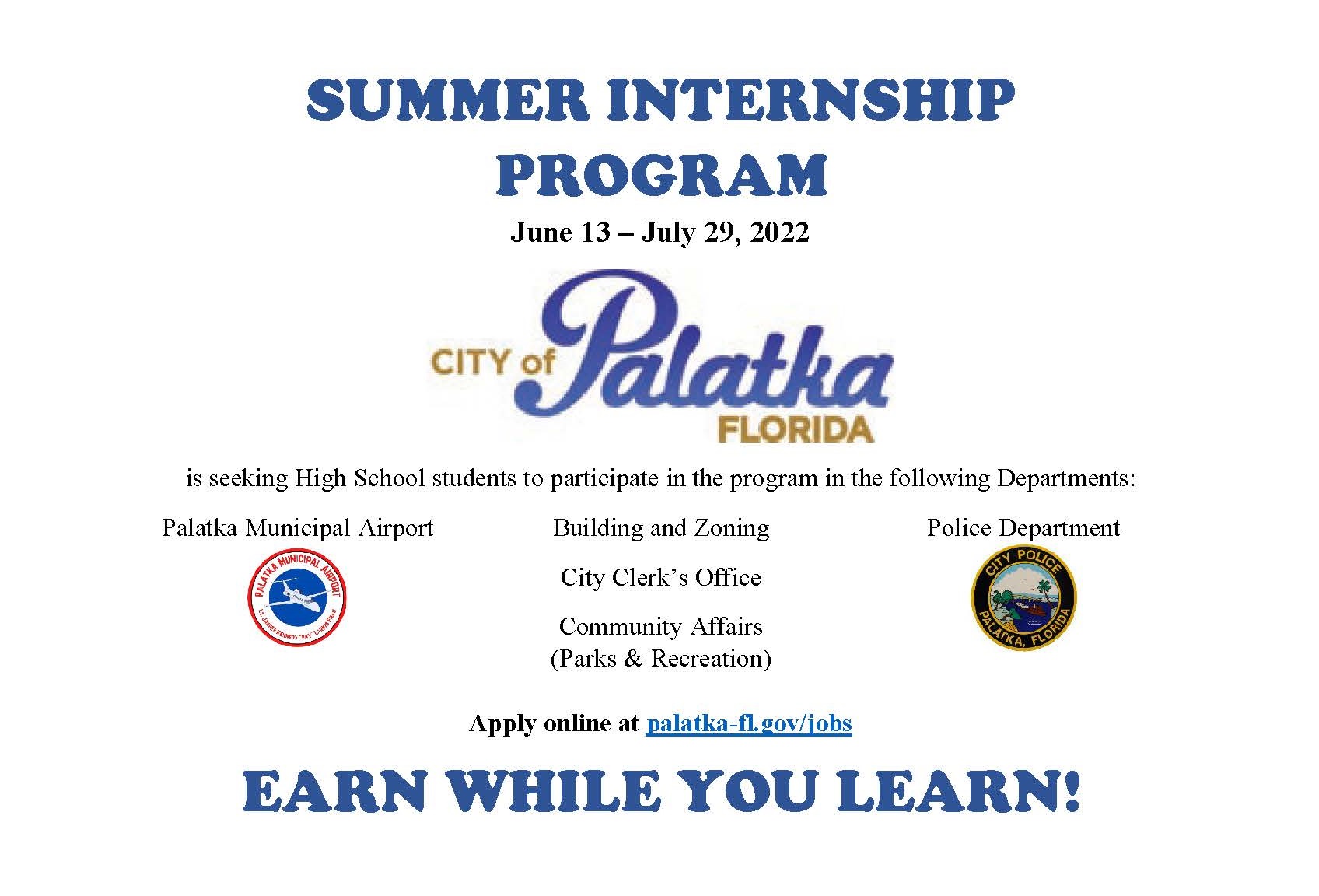 Attention all PCSD High School Students
If you are interested in a summer internship at any of the City of Palatka municipal organizations apply online HERE! This is a GREAT OPPORTUNITY to build job skills & enhance your resume while working in a professional environment related to your specific career interest. THANK YOU to our City Clerk's Office & the Commissioners for supporting our students with post-secondary readiness skill building opportunities!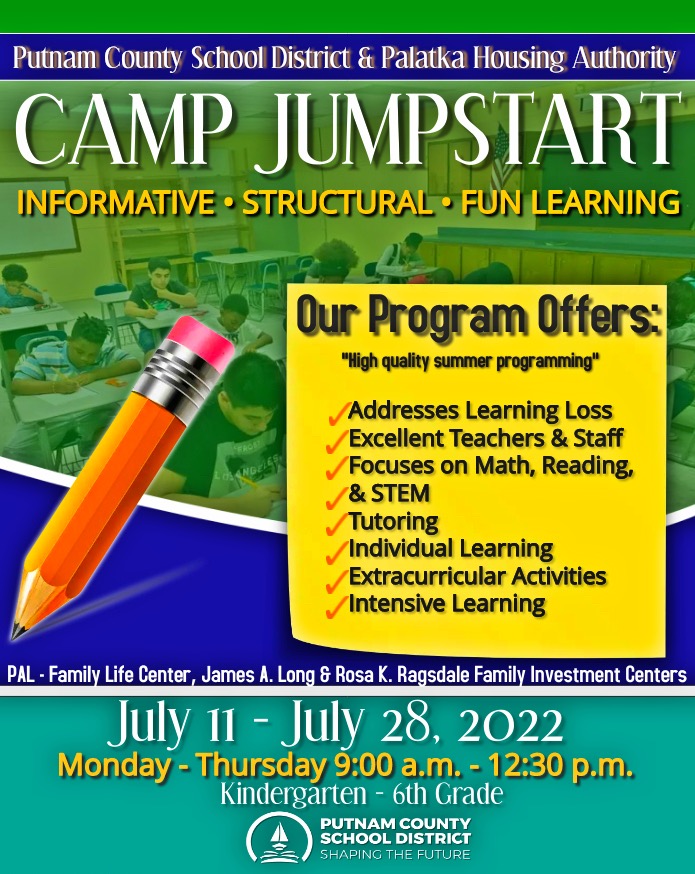 Camp Jumpstart is a partnership between Putnam County School District and Palatka Housing Authority. Camp Jumpstart is a FREE comprehensive K-6 program that offers academics to promote growth and avoid regression over the summer. Summer learning programs are proven to reinforce and build new skills, sending young people back to school in August ready to learn.
Summer learning programs such as Camp Jumpstart are established to maintain and advance students' academic and social growth. This is sometimes referred to as the summer slide. Students who are not engaging in learning daily can forget what they learned during the school year. An academic summer program incorporating enrichment experiences is the perfect way to engage students and ensure they don't forget the critical skills they have already learned. Camp Jumpstart aims to improve students' academic achievement by exposing students in rural communities to STEAM and other supporting educational curriculums.
PCSD is committed to delivering comprehensive community-centered programming based on students' needs. It ensures that all students and families access academically and socially enriching and meaningful summer experiences.
Link to application HERE!
LUNCH WILL BE PROVIDED - FREE
Program Locations:
James A. Long Apartments Investment Center
Rosa K. Ragsdale Apartments Investment Center
Family Life Center (PAL Students)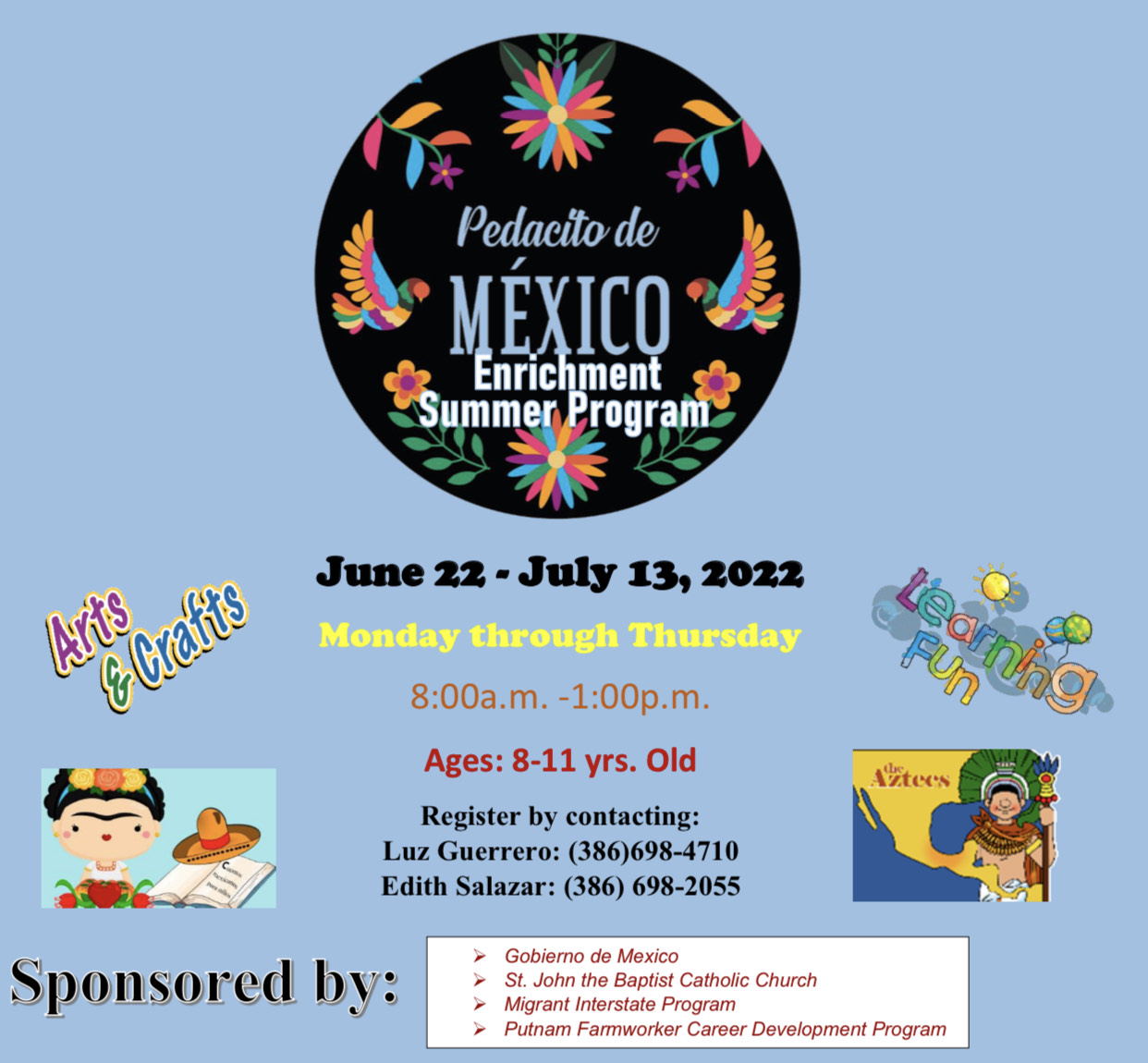 Pedacito de Mexico Enrichment Program for children 8-11! Register by contacting Luz Guerrero (386)698-4710 or Edith Salazar (386)698-2055.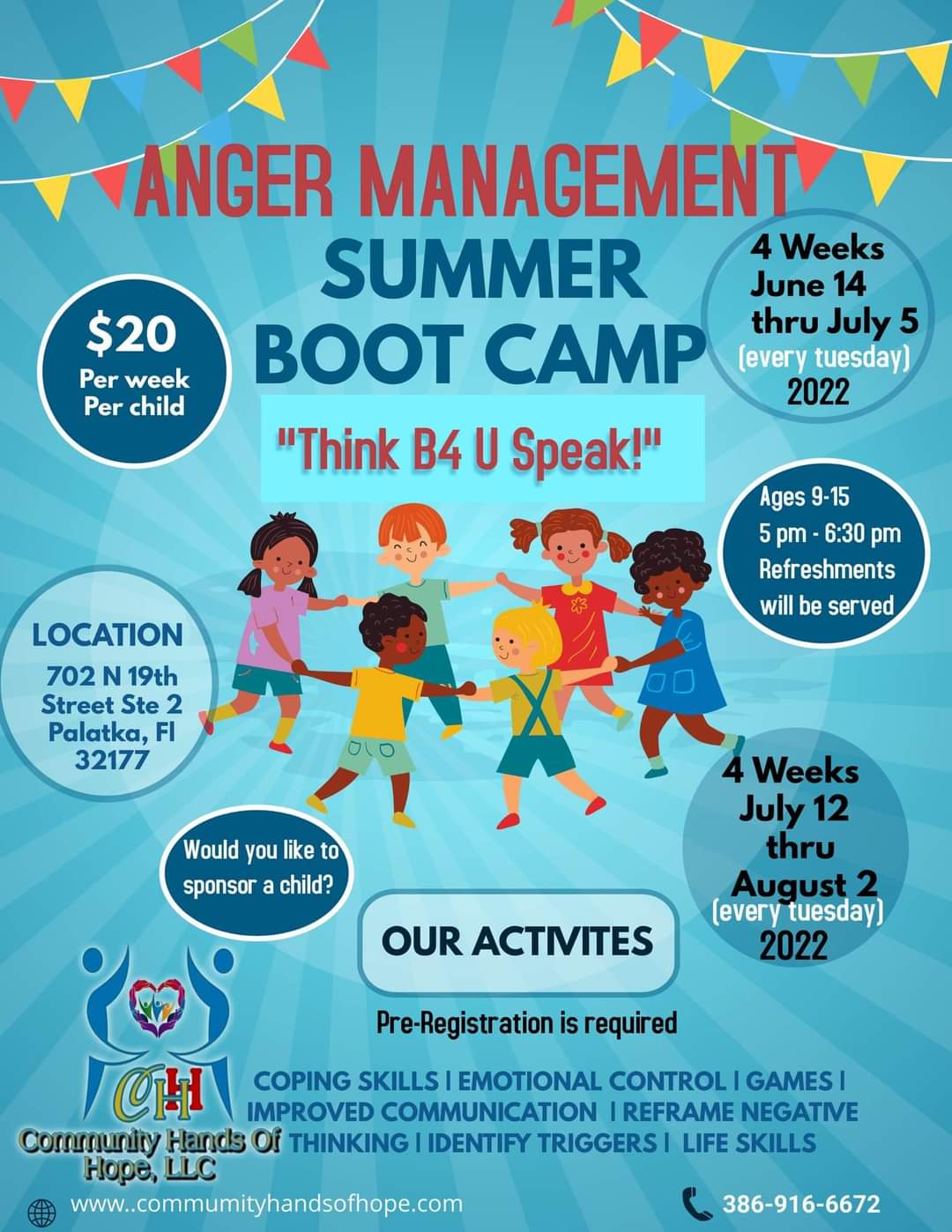 Anger Management Summer Boot-Camp for children 9-15. For more information please call (386)916-6672.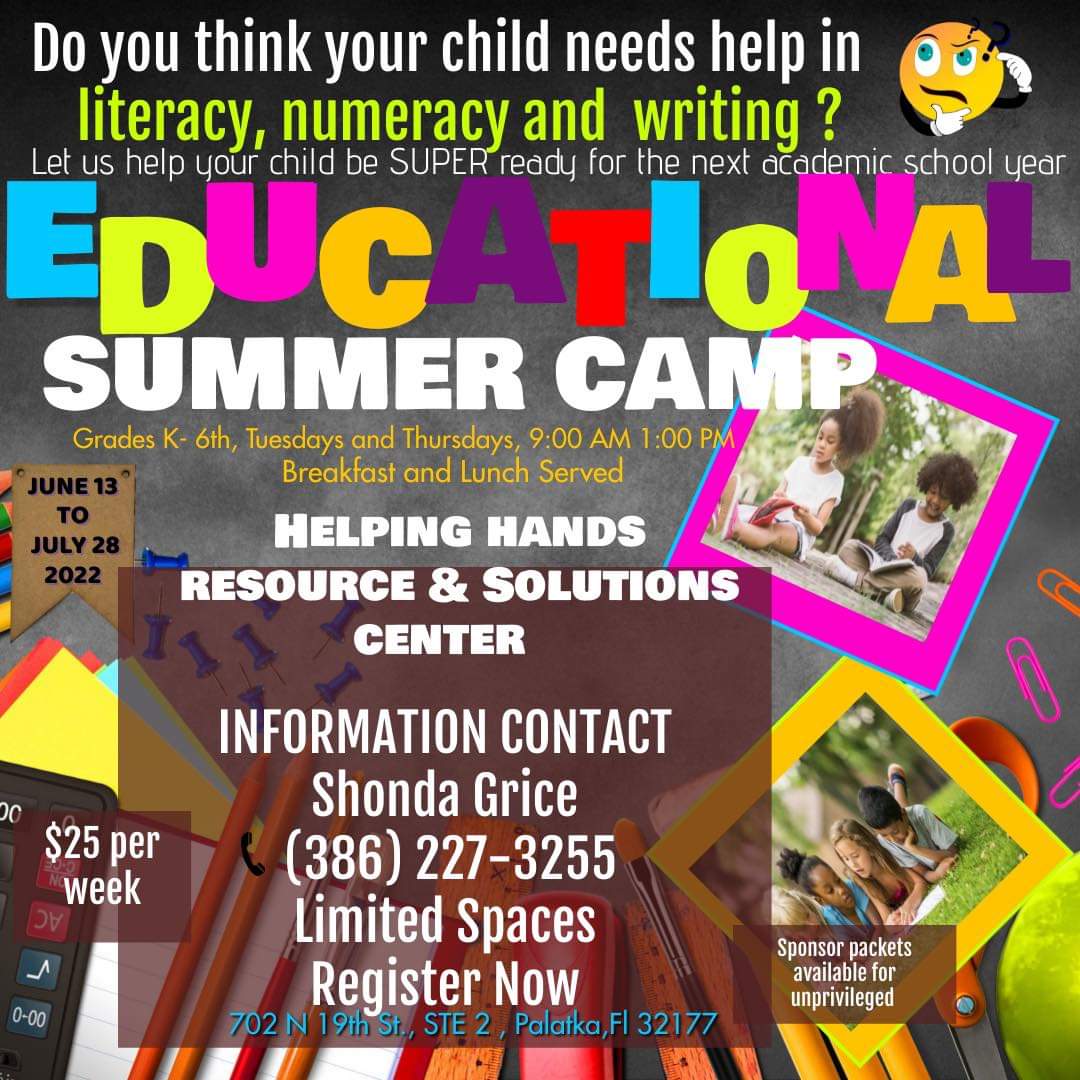 Helping Hands Resource and Solutions Center LLC will be hosting an educational summer camp for grades K -6th. For more information call Shonda Grice at (386)227-3255.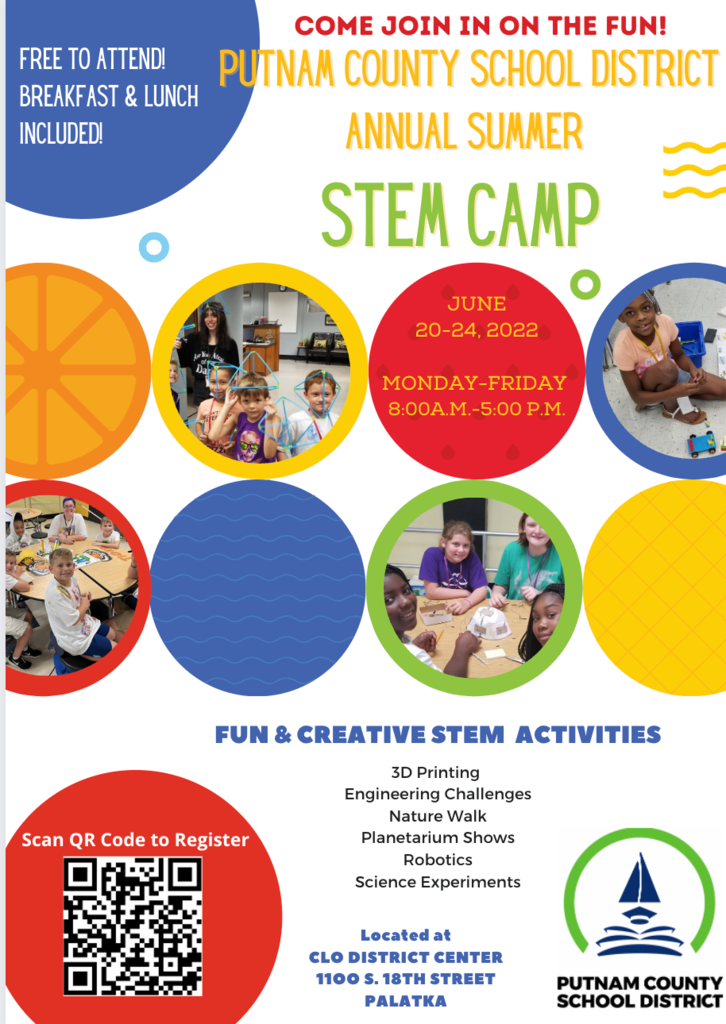 STEM SUMMER CAMP 2022
For: Rising 1st-6th grade students attending PCSD Public Elementary Schools (Does not include Charter Schools)
Camp Cost: FREE!
Meals: FREE Breakfast and Lunch
Camp Dates: June 20-24th, 2022
Camp Times: 8:00AM - 5:00PM (Families must provide transportation)
Event Address: C.L. Overturf District Center, 1100 S. 18th Street, Palatka

Online sign ups HERE!
The Arc of Putnam County, Inc's 2nd Annual Sensory Summer Camp application is live!
This year they are offering an integrated camp experience created for children with and without physical, intellectual & developmental disabilities ages 5-14. Apply HERE!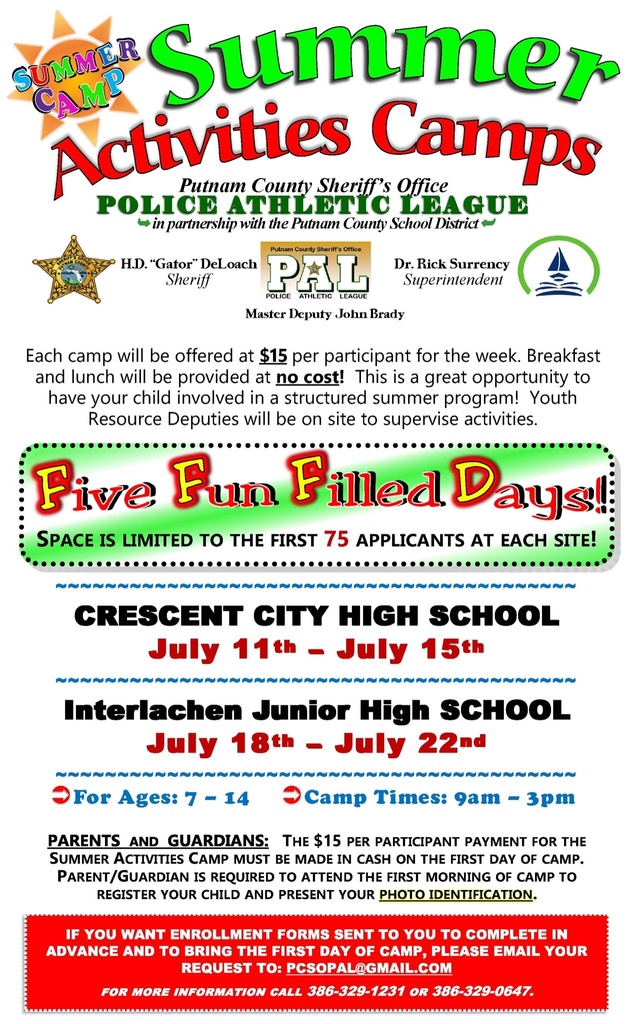 SIGN UP FOR PAL SUMMER CAMP!
Two week-long summer camps sponsored by our Police Athletic League.
Registration each week is $15 and includes breakfast and lunch!
Sign-ups are for children 7-14 and each camp is limited to 75 participants.
West end - the Interlachen camp takes place at Interlachen Junior Senior High School Campus 2 (Old Price Middle School) from July 18-22.
South end - Crescent City camp is at Crescent City Junior Senior High School from July 11-15.
To receive a digital registration form, email [email protected]
For questions call 386-329-1231